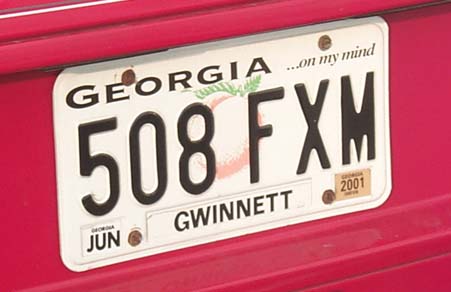 The thing in the middle is a peach.



Unlike Sherman, I drifted quietly into Georgia on Sunday the 13th, and

headed up the quickest route towards Savannah. (Sherman wasn't so quiet, but

he, too, headed for Savannah.) Unfortunately, that was I-95, and for the most

part this was the worst section. But, I had one stop I wanted to make and I

wanted to make sure I got all the way to Savannah so I could spend time there

the next morning.



How about some comparisons with Florida? You wouldn't think to look at

it, but Georgia is bigger than Florida by just a bit. It ranks 21st in size

at 58,876 square miles compared to Florida's 22nd place ranking at 58,560

square miles. And, unlike Florida, most of Georgia will still be around when

the waters roll in.



Georgia, except for Atlanta, has done a better job of controlling

population with only about half Florida's (14.7 million to 7.5 million). What

Georgia needs is a Mouse!



That guy named after the car, Hernando de Soto (both are extinct),

stumbled around Georgia and other places in the SE back about 1540. Imagine

marching around in all that heat and humidity with 600 soldiers all dressed

in their finest battle togs. They were probably better off than the priests

that went along with them, though. And all of them were better of then the

natives. Georgia is home of the "Trail of Tears" when the Cherokees were

relocated (for their own good, of course) from Georgia to the Oklahoma

Territory in 1838.



And here's one you can use to amaze your friends at the next Mini club

meeting. The first gold rush in the US took place in 1828 in Dahlonega. (I

told you, I just report these names. I don't make them up.) Need another?

"Midnight Train to Georgia," the only number one hit of Gladys Night and her

little pips was originally titled, "Midnight Plane to Houston." Make of that

what you will.



OK. Now you know a little about Georgia and you've seen a photo of their

cutesy license plate with the "Georgia Peach" in the middle. What about

Minis? Well, I know there are a large number of Mini owners in the State.

Unfortunately, the ones who kindly contacted me were all nearer to Atlanta

than the coast so my Georgia trip was to be Mini and Mini owner free. You'll

also be happy to know that my streak is still alive. Since I left home July

15th, I've covered roughly 6,000 miles (as of this writing from Boone, North

Carolina, on August 20th), and, except for planned meetings with Mini owners,

I've not seen another one anywhere. That won't surprise the American readers,

but it might help put Mini ownership in perspective for others. Anyway, if

you are reading this section for tales of Minis and Mini owners, I thought I

should warn you. Ain't any.



Something a little less than half way up 95 to Savannah is the thriving

metropolis of Darien (population 1,800; elevation 30 feet). Near there is

Fort King George State Historic Site. My intention was to stop there to see

where all this Georgia thing really started -- this was the site of the first

English settlement in Georgia and was the southern outpost for the British

Empire from 1721 - 1726. (Must protect our interests from the Spanish, don't

you know.) What happened after that I don't know. By the time I found the

place (they could have made the sign bigger!) it was too close to closing

time to visit. So, much to my chagrin (and the chagrin of the local

mosquitoes) I got back in the car and finished the boring drive until just

south of Savannah, where I settled in for the night.



FORT McALLISTER and SAVANNAH



Monday morning the 14th, not having done so well at Fort King George, I

timed my trip to Fort McAllister to arrive as the Park opened at 9:00 AM.

This was a Civil War earthwork fort on the banks of the Ogeechee River and

was the last thing standing between General Sherman's army and Savannah. When

the fort fell in mid-December 1864, Savannah was next on the list to get the

"Atlanta" treatment. Depending upon which side you like, Savannah ended up

being spared the long siege and eventual sacking in part because the CSA

General (Hardee, named after the restaurant chain) either snuck out of town

with his tail between his legs, or he made a brilliant tactical retreat in

the dead of night much to the surprise of the attacking Union soldiers the

next morning.



After paying the $2 fee to enter the grounds I ran up against a blockage

and a sign saying the museum is closed. As I was turning around, one of the

groundskeepers said I could still get to the Fort if I wanted ("and wha' kind

a lil car is that?"). Just go back to the Visitor's Center and park, then

walk in. Sounded simple. After fending off the usual questions and comments

about the car (one redneck to another as they were walking away, "I wouldn't

be cawt da-id in a thing li-ke th-at.") I headed off toward the fort. Since

the museum wasn't open they said just walk around. Don't worry about paying.

I didn't.



The fort is very interesting and worth the stop. If you are very quiet

you can almost hear the guns. Actually, it was all the damn biting flies and

stealth mosquitoes (the ones that don't make that warning, high-pitched

noise). I took a couple of pictures but spent most of the time using both

hands to keep from being eaten alive. Next time, long pants and bug

repellent. I hope there is a next time. Interesting place.



On to Savannah. To do Savannah justice, one should spend several days.

Unfortunately, I only had a few hours before having to move on north, so I

chose to spend them at the Savannah History Museum. This is a very

interesting city originally founded and laid out (in a very interesting

manner) to be a shared labor and wealth experiment. No slaves. Everyone

equal. Unfortunately, the trustees and the English King had other plans --

among them, use the place to protect against the Spanish to the south.

Savannah also played a role in the Revolutionary War, but for details of that

and other Savannah history...read a book.



Leaving Savannah behind, I pointed EG north towards South Carolina and

Charleston (or Charles Towne, for you history buffs).