During the Month of Nevember 2009, there has been lots of news stories about the coming return of the MG brand to some sort of production. Here are just a few of the reports:
SAIC to produce self-developed MG 6 sedan in UK
By George Gao From:Gasgoo.com

Shanghai, November 26 (Gasgoo.com) SAIC Motor Corp plans to start making its self-developed MG 6 sedan, based on acquired technology, in its UK plant at the end of next year, company president Chen Hong said earlier this week at the Guangzhou auto show, where the MG 6 is displayed, Reuters reported.
SAIC Motor Corp, China's largest automaker which operates joint ventures with General Motors and Volkswagen AG, launched its first self-developed car, the Roewe 750, in March 2007, followed by the Roewe 550. The own-brand Roewe and MG cars were based on technologies acquired from defunct British carmaker MG Rover.
In addition to production of GM and VW cars, SAIC will roll out more own-brand models, including the MG 6, which was unveiled to the press on Sunday at the Guangzhou show. Sales may rise to 500,000 units in the foreseeable future despite the challenge of locally made foreign brands.
SAIC became the owner of MG Rover's 10,000-unit Longbridge plant in Birmingham, central England after a merger in late 2007 with Nanjing Auto that acquired the UK brand four years ago. The UK facility will serve as a platform for SAIC to tap the European market. (AND FURTHER)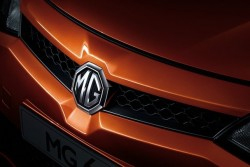 New MG6 Revealed
Abomination or an inevitable consequence of globalisation and the decline of the British car industry? Perhaps it depends on your age – I grew up with the everyday sight of Midgets and MGBs on our roads, so I can't help looking at these pictures and seeing them as a crude and unwelcome example of badge engineering.
Nevertheless Shanghai Automotive Industries Corporation (SAIC) says that the MG6's arrival "marks the start of one of the most exciting periods in the 85-year history of the iconic MG brand, as it prepares to expand globally, starting with the world's largest automotive market in China".
The MG6 engine line-up will feature two lightly updated versions of the 1.8-litre K-series engines (now called N-series), one of which is turbocharged and the other normally aspirated. The normally aspirated version will most likely produce around 133bhp, while the turbo version is said to produce nearer 158bhp. Despite rumours of a diesel version, we understand there is no immediate likelihood of such a version.
Production of the Roewe 550-based hatchback will commence at the Longbridge plant near Birmingham at the end of 2010, home of MG Rover until its demise in 2005, although sales of Chinese built cars may begin in the UK slightly earlier.
The famous Morris Garages (MG) logo has also received a redesign to accompany the MG6's launch, with carries the unenviable responsibility of "re-establishing the once highly regarded British marque." (AND FURTHER)