SATURDAY SCHEDULE:
Swap Meet Starts: 8 a.m.
Mini Mania Open for Business: 8 a.m.
Car Show Entries Arrival: 8 - 10 a.m.
Manufacturers Tech Sessions: 9 a.m., 10 a.m., 11 a.m., 12 noon, 1 p.m.
"How-to" Tech Sessions: 9:30 a.m., 10:30 a.m., 11:30 a.m.
Product Installation Demonstration: 10 a.m., 12 Noon, 2 p.m.
Local Area Sightseeing: All day
BBQ Wagon Open for Business: 11 a.m. - 1 p.m.
Show Judging (People's Choice): 12:30 - 1:30 p.m.
Show Winners Announced, Gift Certificate Drawing: 2:30 p.m.
Mini Mania Closes: 4 p.m.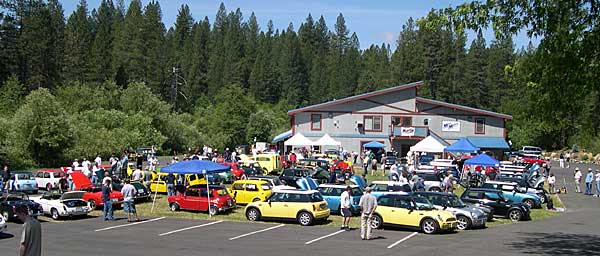 Join us for a day of fun at Mini Mania as we celebrate the Fifth Annual Nevada City Adventure! We've had great turnout in the past, and this year is shaping up to be the best yet. Come show off your Classic Mini, New BMW MINI or Morris Minor. We welcome ALL British cars -- you name it. And it's all FREE! Make a day of it.
Along with our standard main events -- a good old fashioned Swap Meet and a British Car Show -- this year we'll be presenting technical seminars for both Classic and New MINIs, Manufacturers Tech Sessions and product installation demonstrations.
The people's choice Show-n-Shine classes will include Best Classic Mini, New BMW MINI, Morris Minor, and Roadster. And we'll repeat the popular "Worst of Show" category, open to any classic British car in ANY (or "BAD") condition that makes it from its home port to Mini Mania under its own power!
And of course, Mini Mania will be open for business on Saturday! Pre-order your parts by noon on Thursday, May 4th, and receive a 15% discount on all non-sale merchandise. All orders placed on Saturday will receive a 10% discount on regularly-priced items.
Since this is an all day event, we suggest that those arriving from out of town make lodgings reservations well in advance -- Nevada City is a popular tourist destination any time of the year!
View some photos from our First Nevada City Adventure!
Here's some idea of what to expect:



SATURDAY EVENTS

Swap Meet
FREE to all private party buyers and sellers. All British car parts welcome, vendors welcome (contact us for details), cars for sale welcome, club displays welcome! Starts at 8 a.m., ends when the last seller leaves. Or 4 p.m., whichever is sooner.

Car Show
Awards for everyone: Best Classic Mini, Best New BMW MINI, Best Morris, Best Roadster, and our favorite, WORST OF SHOW -- must be driven to the event and street legal, no wrecks allowed! NO CHARGE to enter; judging is by people's choice and will begin at 12:30 p.m.

Technical Seminars
Mini Mania's Ed D'Arata will give a talk and demonstration on rebuilding SU carburetors, Chuck Heleker will gives some insights on How to ID your Mini and Jamal Ketat will talk about rebuiding Mini transmission. On the New MINI side, our sales team and representatives from various manufactuers will discuss the technical aspects of their products and options in modifying your MINI at various times throughout the morning. NO CHARGE.

Picnic and Bar-B-Q
Bring your own or purchase a tasty lunch from one of our local service club vendors on hand. BBQ wagon will be serving from 11 a.m. to 1 p.m. Leave room for the hand-dipped ice cream bars!

Shopping at Mini Mania
Our sales staff will be on hand Saturday only to help you get the right parts for your latest project. PHONE orders placed by noon Thursday May 4 for Saturday pickup get a 15% discount; all other Saturday sales are 10% off. (Discounts apply to regularly-priced merchandise only.)

PLACES TO STAY:

Be sure to make reservations in advance if you plan to stay in Nevada City either Friday or Saturday night! Accommodations are frequently sold out on weekends. All area codes are 530.

Northern Queen Inn - 265-5824. A 10-minute walk to Mini Mania, and a short drive/long walk to downtown Nevada City. Restaurant on the premises.

Best Western Gold Country - 273-1393. Next stop up the freeway from Mini Mania (ask us for the twisty backroad route!)

Two Room Inn - 265-3618. At the top of Broad Street in the heart of downtown Nevada City.

Outside Inn - 265-2233. Usually caters to the "mountain bike" crowd, in a residential area of downtown Nevada City.

National Hotel - 265-4551. The oldest continuously-operating hotel in California (or hearabouts, anyway). In the heart of downtown Nevada City.

Holbrooke Hotel - 273-1353. Another historic Gold Rush hotel in nearby Grass Valley.

Golden Chain Motel -273-7279. At
the south end of Grass Valley, you'll have a 10 minute (or less) drive to Mini Mania and Nevada City.


CAMPGROUNDS

Nevada County Fairgrounds - 273-6217. Called one of the Top 10 Fairgrounds in the country! Limited hookup sites; showers available. Details and rates at www.nevadacountyfair.com.

Scotts Flat Lake - 265-5302. Boating, fishing, showers, the works! 20 min. from Nevada City.

Restaurants/B&Bs

For a list of local restaurants and B&Bs please visit the Nevada City Chamber of Commerce website.
Maps
From the Bay Area/Sacramento: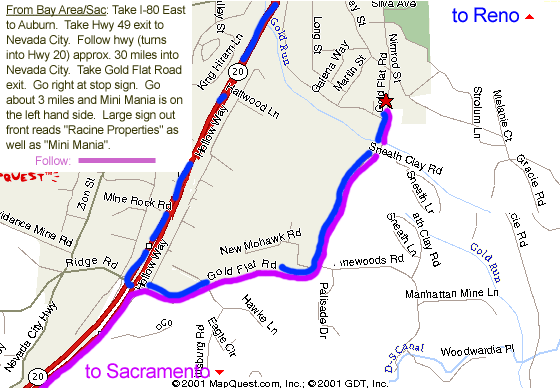 From Reno: